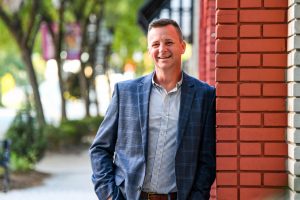 Andrew Gibbs (Andy) and his wife Hilary live in their 1941 home they bought together in Valdosta, GA after they married 17 years ago. They fell in love with the neighborhood and the opportunities that living so close to work, schools, and their church has afforded them in balancing their work and home lives. Andy's desire to preserve Valdosta's neighborhoods, while working to grow businesses have been a driving factor in his decision to run for the District 6 City Council seat.
Andy and Hilary's love for Valdosta, GA began during their time as students at Valdosta State University (VSU). They both graduated from VSU with degrees in marketing in 2001 and married in 2002. While at VSU, Andy started as the punter for the Blazer football team 1998-2000. Andy has been able to continue to pursue his passion for football after his college days thru his company, Top Recruit Punting and Kicking. He and his business partner, Chris McInally of Michigan, began Top Recruit Punting and Kicking after meeting at an NFL camp in 2002.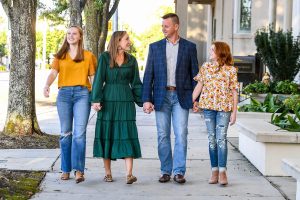 In 2009, after eight years in management in the private business sector, Andy left the business industry to pursue his dream of becoming a public school teacher. Andy graduated with his Master's degree in Education from VSU in May, 2011 and immediately began teaching at Valdosta Middle School (VMS) that August. In May of 2015, he received his gifted endorsement. In May of 2017, he received his Specialist Degree in Performance-Based Leadership. In December of 2018, he received his certifications in Robotics, Design and Modeling and App Creations. Andy currently teaches STEM Connections for 6th, 7th and 8th grade at VMS. Andy also leads the Fellowship of Christian Athletes (FCA) program at Valdosta Middle School, and continues to teach punting and kicking lessons in the evenings as well as hosting college football camps in the summers.
Andy's wife, Hilary Gibbs, is the Associate Vice President for Development and Alumni Relations at VSU, and has served in various roles at the University for the past 17 years. Andy and Hilary both share a passion for public education. They have two daughters, Elizabeth Grace (13) and Anna Clark (10), who attend Valdosta City Schools.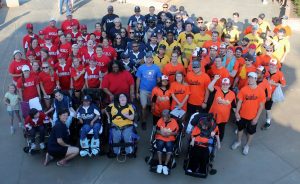 Andy plays an active role in his church, Park Avenue United Methodist, and has a firm faith in God. It is thru this firm faith in God that Andy felt called to start the Miracle League of Valdosta in 2004 after seeing a documentary on Real Sports with Bryant Gumbel. Andy has always had a passion for children with disabilities, and the Miracle League has allowed him to combine his servant heart and his love of sports. He currently serves on The Miracle League board as Founder and Miracle League Director. This past spring, the Miracle League completed its 9th season with over 100 players and 350 volunteers. In partnership with the Valdosta-Lowndes Parks and Recreation Authority (VLPRA), a board on which Andy served for 5 years. In March of 2019, The Miracle League of Valdosta completed their $1.6 million fully accessible complex located at Valdosta's Freedom Park.
Andy Gibbs is committed to staying involved in Valdosta's local government in order to impact positive change. Andy feels that by staying involved and taking on a leadership roles within the city government, he can play an active role in continuing to preserve the neighborhoods in which we live, while working to help our local businesses grow and help to grow our Valdosta-Lowndes community.